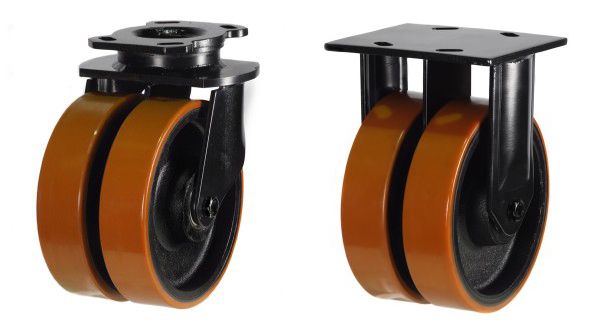 150mm DNGR Twin Wheel Series Polyurethane (1500kg)
From

£94.63
( £113.56 Including VAT at 20% )
Ref:

150DNGR-PTBJ
150mm Extra Heavy Duty Twin Polyurethane/Cast Iron Wheel Castor.
150 mm Swivel & Fixed Castor Double Wheel with 4 bolt fixing plate
Extra Heavy duty fabricated bracket with ball bearing swivel head.
Extra Heavy duty Polyurethane tired wheel on cast iron centre with ball bearings X2
The bracket is finished black powder coat.
Overall Height : 202mm
Wheel Size : 150mm X2
Tread Width : 50mm X2 102mm Total
Wheel Type : Biscuit Polyurethane Wheel with Ball Bearings
Load Rating : 1500kg
Fixing Plate Size : 149 x 110mm (Swivel)
Fixing Plate Size : 175 x 150 (Fixed)
Bolting Centres : 105 x 80mm
Bolt Size : 12mm (M12)
Swivel Radius : 125mm