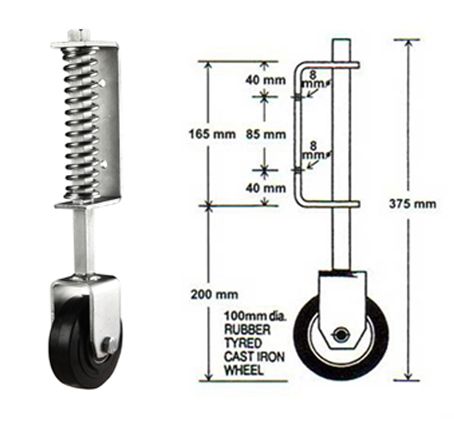 spring-loaded-gate-castor
£41.80
( £50.16 Including VAT at 20% )
Ref:

GATE02
You may also be interested in:
Spring Loaded Gate Castor with automatic Height Adjustment for uneven floors
Fitted with 4" Rubber Tyred Wheels
Fitted with side mounted fixing plate with 8mm Bolting hole spaced at 3 1/2"

NEW BZP ZINC PLATED CORROSION FREE FINISH

This castor is specifically designed to help support the gate whilst allowing for any variation in level of the ground. The spring has a maximum compression of 3" with 70kg of force and start spring compression at 20kg.
consideration should therefore be given to the location of the castor.