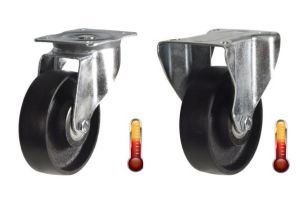 100mm High Temp Cast Iron Wheel (300kg)
From

£17.07
( £20.48 Including VAT at 20% )
Ref:

PL422-CIRBHT
You may also be interested in:
---
100mm Heavy Duty Swivel & Fixed Castors With Cast Iron & Steel Roller Bearing Wheel
When using high temperature / heat resistant castors & wheels please note the temperature range stated is suitable for the ambient temperature of ovens & autoclaves. Consideration therefore should be given to the placement of the castors & wheels in relation to the heat source such as naked flame or inlet vents where the initial temperature will be considerably higher.
(DELIVERY 3-5 DAYS ON THIS ITEM)
MAX TEMPERATURE 280 C
High Temp Heavy Duty Swivel & Fixed Castors with Cast Iron Wheels.
Please Note: The wheels are supplied without any grease & will require suitable grease to the temp required and have a regular maintenance program in place to prolong the longevity of the product.
Overall Height : 128mm
Wheel Size : 100mm
Tread Width : 34mm
Wheel Type : Cast Iron & Steel Roller Bearing Wheel
Load Rating : 300kg
Fixing Plate Size : 105 x 85mm
Bolting Centre : 80 x 60mm
Bolt Size : 8mm
Swivel Radius : 90mm (Swivel Castor)
Temperature Rating : 280 Degrees C