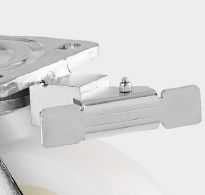 GT-TLL GT SERIES DIRECTIONAL LOCK
£27.56
( £33.07 Including VAT at 20% )
Ref:

GT-TTL DIRECTIONAL LOCK
You may also be interested in:
Travel Line Lock Retro Fit
Directional Lock that can be Retro Fitted To GT100 through to 250 Series Swivel Castor & Braked Castors.
The Lock is Bolted on to the Fixing Plate
When Deployed The sprung plunger located in the notch on the trailing edge & arrests the swivel action
the castor is then fixed in the FORWARD line of travel .
This increases manouverability and reverts to full swivel when switched off.